N. Vittal, IAS (Retd.)
Padma Bhushan Awardee
Fmr. Central Vigilance Commissioner
Fmr. Chairman, Telecom Commission - GoI
Fmr. Secretary, Department of Electronics - GoI
Patron Chairman and Chief Mentor, EMPI ,
Shri. N. Vittal is from the IAS, Gujarat cadre 1960 batch. He has held the appointments of Chairman, Telecom Commission and Secretary, Department of Telecommunication, Government of India, Chairman, Public Enterprises Selection Board and before retirement his last appointment was Central Vigilance Commissioner.
His experience of more than 35 years covers a wide spectrum with focus on industrial administration, science and technology and security. As Secretary to the Government of India, he initiated policies for boosting software, setting up software technology parks and strategic alliance with the industry.
Also he was successful in introducing the electronics hardware technology Park scheme, whereby, mini Hongkongs and mini Singapores could be created in India to boost manufacture of electronic hardware. He made the Department of Electronics a frontrunner in adjusting to the new industry-friendly policy, encouraging foreign direct investment from IBM, Motorola etc. As Chairman, Telecom Commission he initiated the process of liberalization in the telecom sector and played a major role in getting the National Telecom Policy 1994 approved and announced that brought in mobile telephony into India. He has worked with Mr. NandanNilekani, as Chairman of the Data Standards Committee, which forms the basis for the Aadhar Card. He is universally hailed as the 'Enabler of the Indian Software and Telecom Revolution'.
His published works include – India Incorporated: Reflections on the Indian Electronics Industry (1994), TheViscious Cycle of Vittal's Law (1994), The Red Tape Guerrilla(1995), Fighting Corruption and Restructuring Government (2000), and Information Technology: India's Tomorrow. He has edited Export Processing Zones in Asia -Some Dimensions published by Asian Productivity Organization (1977).
He is a regular columnist for the Economic Times and the Web magazine Rediff on the Net. He is included in the list of "Fifty men and women who shaped the economy" in the fifty years after India's independence by the Business Today. He has been a recipient of many honors, including the Dataquest IT Man of the Year (1993) and Winner of the Lifetime Achievement Award of Dataquest in 2004 and CII (Southern Region) Lifetime achievement Award (2007). He is a honorary fellow of the Computer Society of India and a honorary member of the Institute of Electronic and Telecommunication Engineers as well as the Institution of the Industrial Engineers of India. He is the recipient of the Padma Bhushan by the Government of India in 2012.
He has been associated with EMPI since its inception in 1995. He helped shape EMPI incubated innovation parks – Gujarat Vittal Innovation City and Andhra Pradesh Aerospace &Defence Electronics Park (A JV of EMPI Innovation Parks and AP Govt.). He is currently the Patron Chairman and Chief Mentor of EMPI.
P.S. Bami
Fmr. Chairman, NTPC
Chairman, Academic Council, EMPI, NTPC
Mr. P. S. Bami a key figure in the Power Sector has held positions at the highest professional and management levels. He was part of the founding team of NTPC, the largest power utility in India, as Director Finance, for 12 years and Chairman and Managing Director of NTPC for over 4 years. Mr. Bami was closely associated with the development of Private Power policy and its implementation for the growth of power generation in India. He was deeply involved in the re-organization and restructuring of the Orissa Power Industry into independent power entities including their corporatization and privatization. He was also Vice Chairman of Independent Power Producers Association of India. He was the President of India Energy Forum from its inception in 2002 to 2016. IEF, comprising of energy experts and energy related companies, is an independent think tank on all energy issues. He is associated with EMPI as Chairman, Academic Council.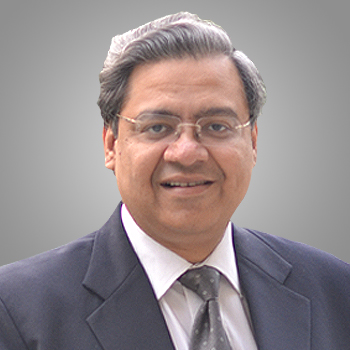 Pankaj Saran
President, EMPI Group
Founder & CEO, Gujarat Vittal Innovation City (GVIC)
Founder & Director, Andhra Pradesh Aerospace, Defence& Electronics Park Ltd.
Director, Atal Incubation Centre-EMPI,
Mr. Pankaj Saran is an Institution Builder, Management Professional, Consultant, Policy Analyst and a Cognitive Scientist.
He has over his professional career worked in International consulting practice with specific focus on Action Consulting intervention for Organizational change in large and small Corporate and non-Corporate Organizations; worked as an independent Consultant to various organizations in developing assessment and developmental psychological tools for identifying and developing leadership potential.
He is the Conceptualizer and Founder of the EMPI Group of Institutions. He has been the Head of Research for the European Union funded EU-India International Management Centre and has been on the Principal Co-investing Team of GLOBE India, the India Chapter of Wharton School's, Global Leadership Foundation.
He has also been responsible for floating a number of first of their kind national initiatives like We Think for India – A participative Public Policy Forum that conceived and ran a National Manufacturing Policy Competition; the findings of which were accepted as a base document to guide the development of the New Industrial Policy by the Government of India through its release by the Prime Minister of India. He conceived The EMPI Indian Innovation Awards that for the first time looked at Organizational and Policy innovation in not only Corporates, but also non-Corporates and Government. These awards were joined in by the Indian Express Group and the Boston Consulting Group (BCG), as the 'EMPI-Indian Express Indian Innovation Awards'. And later by theBusinessworld magazine. This was part of the EMPI's Innovation Mission that was flagged off by the then President of India, Dr. A. P. J. Abdul Kalam. He is also co-editor of a unique Journal on 'Innovations'.He had been involved with the architect of India's IT and Telecom revolutions, Padma Bhushan Mr. N. Vittal, IAS (R), India's legendary policy maker and creator of India's Software Technology Parks, in developing in collaboration with leading Companies, International Science Parks and the Government of Gujarat, the Gujarat Vittal Innovation City. This City aimed to bring in the Smart City model, first time in India, through the Korea Land Corporation of the Govt. of Korea.He has played a key role under Mr. Vittal's leadership in supporting Prime Minister ShriModiJi and the then Defence Minister Late ShriParrikarji in helping evolve the new Aerospace &Defence Policy framework. Further, he is now setting up as a Co-Founder, India's first Aerospace &Defence Innovation cluster (APADE) as a joint venture with the Government of Andhra Pradesh, near the Bangalore Airport.
He has been engaged in a number of projects with countries like South Korea, Taiwan, Hongkong, US, Japan, Malaysia, Canada and Germany amongst others.
Vinod Midha
Fmr. Executive Director, BHEL
CEO, AIC-EMPI,
A Modernite and an alumnus of IIT Delhi with rich experience of  over 45 years, he held coveted position as Executive Director  with Bharat Heavy Electricals Limited handling Renewable Energy & Water Businesses. He also lead marketing and business development  in diverse sectors including Defense, Captive Power, IPP, Mining and Industry including Cement, Sugar, Steel, Aluminium, Oil & Petro Chemicals, etc.
He has been associated with setting up of AIC since its inception and conceptualized the the framework for unique industry oriented approach. Before joining AIC-EMPI as CEO he was  Global Business Development Advisor of Astonfield Renewables.
His areas of expertise include  Marketing and Business Development including development and introduction of new products in Steel, Mining, Captive Power, Defense and Renewable Energy, Project Engineering, Automation & Control, Commissioning, Project Management, Procurement, Vigilance, etc., Corporate Functions  – Capital Investment, Technology Acquisition, HR, PR, Industry Co-ordination.
Passionate about innovative use of Renewable Energy to change the lives of people even in remote corners of the country. he also conceived, conceptualized and built the framework for India's first and world's largest 4000 MW Ultra Mega Solar Power Plant in Rajasthan.