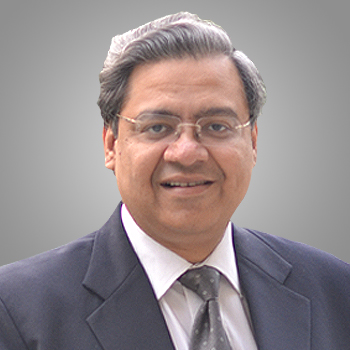 Pankaj Saran
President, EMPI Group
Founder & CEO, Gujarat Vittal Innovation City (GVIC)
Founder & Director, Andhra Pradesh Aerospace, Defence& Electronics Park Ltd.
Director, Atal Incubation Centre-EMPI
Mr. Pankaj Saran is an Institution Builder, Management Professional, Consultant, Policy Analyst and a Cognitive Scientist.
He has over his professional career worked in International consulting practice with specific focus on Action Consulting intervention for Organizational change in large and small Corporate and non-Corporate Organizations; worked as an independent Consultant to various organizations in developing assessment and developmental psychological tools for identifying and developing leadership potential.
He is the Conceptualizer and Founder of the EMPI Group of Institutions. He has been the Head of Research for the European Union funded EU-India International Management Centre and has been on the Principal Co-investing Team of GLOBE India, the India Chapter of Wharton School's, Global Leadership Foundation.
He has also been responsible for floating a number of first of their kind national initiatives like We Think for India – A participative Public Policy Forum that conceived and ran a National Manufacturing Policy Competition; the findings of which were accepted as a base document to guide the development of the New Industrial Policy by the Government of India through its release by the Prime Minister of India. He conceived The EMPI Indian Innovation Awards that for the first time looked at Organizational and Policy innovation in not only Corporates, but also non-Corporates and Government. These awards were joined in by the Indian Express Group and the Boston Consulting Group (BCG), as the 'EMPI-Indian Express Indian Innovation Awards'. And later by theBusinessworld magazine. This was part of the EMPI's Innovation Mission that was flagged off by the then President of India, Dr. A. P. J. Abdul Kalam. He is also co-editor of a unique Journal on 'Innovations'.He had been involved with the architect of India's IT and Telecom revolutions, Padma Bhushan Mr. N. Vittal, IAS (R), India's legendary policy maker and creator of India's Software Technology Parks, in developing in collaboration with leading Companies, International Science Parks and the Government of Gujarat, the Gujarat Vittal Innovation City. This City aimed to bring in the Smart City model, first time in India, through the Korea Land Corporation of the Govt. of Korea.He has played a key role under Mr. Vittal's leadership in supporting Prime Minister ShriModiJi and the then Defence Minister Late ShriParrikarji in helping evolve the new Aerospace &Defence Policy framework. Further, he is now setting up as a Co-Founder, India's first Aerospace &Defence Innovation cluster (APADE) as a joint venture with the Government of Andhra Pradesh, near the Bangalore Airport.
He has been engaged in a number of projects with countries like South Korea, Taiwan, Hongkong, US, Japan, Malaysia, Canada and Germany amongst others.